Sheffield Crescent Panel & Paint
Sheffield Crescent Panel and Paint are experts in their industry. Owner Geoff Tiney started in the industry 30 years ago and in 1996 took over the panel beaters workshop in Burnside. Panel beating is a tough industry with a lot of competition. Geoff knows the importance of customer loyalty and as such he has steadily built up a strong reputation as a quality repairer who looks after clients well.

Geoff has invested heavily in technology to make the process of repair smooth and accountable at every step. After an initial assessment and date set for repair, Geoff will order parts ahead of time so that what is required is on site when the repair begins. Geoff only deals with trusted parts suppliers who deliver quality and in a timely manner. His qualified staff use a pc tablet with every step of the repair outlined and assessed by a senior repairer to ensure on-going quality. They have their own on-site paint shop and expert painters, saving time and money for clients. Keeping every stage of the repair in house allows for comprehensive quality control.

.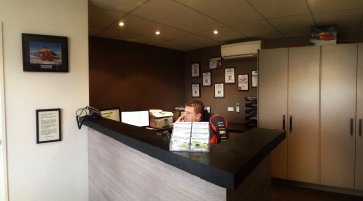 Our Reception with Geoff
We can repair all makes and models of vehicles including commercial vehicles. Fleet work, where a timely turnaround is crucial, is a speciality